Product Detail
FAQ
Product Tags
INDICATIONS:
The prophylaxis of thromboembolic disorders of venous origin, in particular those which may be associated with orthopaedic or general surgery.
The prophylaxis of venous thromboembolism in medical patients bedridden due to acute illness.
The treatment of venous thromboembolic disease presenting with deep vein thrombosis, pulmonary embolism or both.
The treatment of unstable angina and non-Q-wave myocardial infarction, administered concurrently with aspirin.
Treatment of acute ST-segment Elevation Myocardial Infarction (STEMI) including patients to be managed medically or with subsequent Percutaneous Coronary Intervention (PCI) in conjunction with thrombolytic drugs (fibrin or non-fibrin specific).
The prevention of thrombus formation in the extracorporeal circulation during haemodialysis.
CHARACTERS: Strongest anticoagulant activity and Fastest effect. It has a long elimination half-life and the highest potency. It is the most widely used and has the most indications LMWH in the world.
COMPANY ADVANTAGE
1.full product Chains:
We have the full product Chains, which starts from the Porcine mucosa with be processed to Crude heparin, Heparin sodium API that could be depolymerized to the API of Enoxaparin sodium, Dalteaprin sodum and Nadroparin calcium. We could control the product from the starting material and make sure the tracebility which is required by the regulated market. At present, we have our own crude heparin workshop, which could help us to not only control the cost bust also assure the quality of our product.
2.APIs' Production Lines:
Facilities and Equipment Systems
There are dedicated production workshops respectively for Heparin API, Enoxaparin Sodium API and Dalteparin Sodium&Nadroparin Calcium API. These three workshops are all established and have their respective dedicated production equipments, HVAC system and purify water system, which could avoid the cross contamination.
3.Product qualification
For enoxaparin Sodium API, we have passed the followings audits, US-FDA, CFDA, Germany and Turkey authority, EIR-LETTER, Germany and China GMP are available.
4.Production capacity is enough:Enoxaparin Sodium API: 5,000kg
5.We basically estsabilshed GMP Six-system that can comply with the standard of EU GMP,US FDA CGMP and Chinese GMP which could make sure our product comply with the international quality systems.
6.The company is located in the Zhengding area of China (Hebei) Pilot Free Trade Zone, close to Shijiazhuang Airport and the high-speed railway station, with a good transportation location. On August 26, 2019, the State Council issued the "Overall Plan for China (Hebei) Pilot Free Trade Zone". The Zhengding area focuses on the development of bio-medicine, international logistics and other industries. We will strive to build the company into a leading enterprise in the domestic heparin industry.
Main market:Ukraine, Belarus, Indian,Argentina, Turkey, Iran and so on.
7.Payment: TT in advance
Delivery details: within in 30days after confirmed the order by air
Flow Chart of Enoxaparin Sodium

Enoxaparin Sodium
Test

Specification

Characters

A white or almost white powder.

Identification

A. Nuclear magnetic resonance spectrometry: the 13C NMR spectrum obtained is similar to that obtained with the reference standard.

B. The ratio of anti-factor Xa activity to anti-factor IIa activity is between 3.3 and 5.3.

C. The mass-average relative molecular mass ranges between 3800 and 5000. The mass percentage of chains lower than 2000 ranges between 12.0 percent and 20.0 percent. The mass percentage of chains between 2000 and 8000 ranges between 68.0 percent and 82.0 percent.

D. 15 percent to 25 percent of components bearing the 1,6-anhydro structure at the reducing end of their chain.

E. It gives reaction (a) of sodium.

Appearance of solution

The solution is clear and not more intensely coloured than GY6 reference solution.

pH

6.2 to 7.7

Specific absorbance

14.0 to 20.0 (dried substance), determined at 231nm.

Benzyl alcohol

maximum 0.1 percent m/m.

Sodium

11.3 percent to 13.5 percent (dried substance)

Nitrogen

1.5 percent to 2.5 percent (dried substance)

Molar ratio of sulfate ions to carboxylate ions

minimum 1.8.

Heavy metals

maximum 30 ppm.

Anti-factor Xa activity

90~125 AXaIU/mg (dried substance)

Anti-factor IIa activity

20.0~35.0 AIIaIU/mg (dried substance)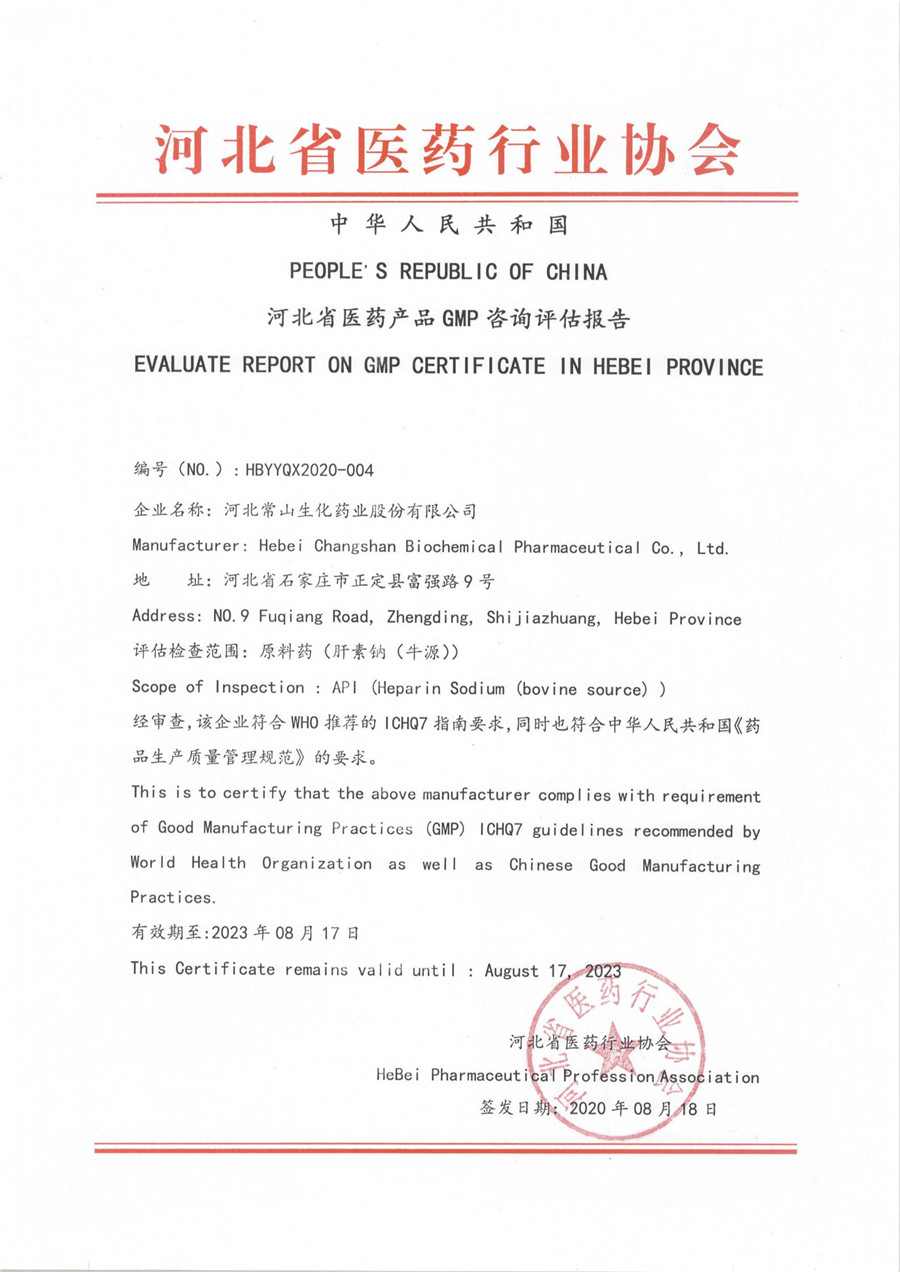 ---
Previous:
Heparin Sodium (Bovine Source)
Next:
Dalteparin Sodium
---
Write your message here and send it to us