Heparin Sodium (Bovine Source)
Product Detail
FAQ
Product Tags
Heparin sodium from Bovine source(cattle-derived) is to develop the international halal drug market. It targets the development of halal drugs. We have the dedicated API workshop which has met c-GMP conditions. This API workshop once passed the inspection from EU GMP, EDQM and US FDA which produced heparin serials products in the previous years.
Certificates/Advantage: Halal certificate, The evaluation report on China-GMP certificate
INDICATION:
(1) For the prevention and treatment of thrombosis or embolizing diseases (such as myocardial infarction, thrombophlebitis, pulmonary embolism, etc.);
(2) Disseminated intravascular coagulation (DIC) caused by various reasons; (3) It is also used for Anticoagulation treatment of certain blood specimens or instruments during operations such as hemodialysis, extracorporeal circulation, catheterization, microvascular surgery, etc.
Flow Chart of Heparin Sodium
TESTS

SPECIFICATIONS

Appearance
White or almost white hygroscopic powder.
Solubility
Freely soluble in water
Identification A
It delays the clotting of recalcified citrated sheep plasma.
Identification B
1H-NMR
Identification C
In the chromatogram of related substance, the principal peak obtained with test solution is similar in retention time and shape to the principal peak in the chromatogram obtained with reference solution.
Identification D
It complies with the test for sodium.
Appearance of solution
A:  The solution is clear.
B:  The solution is not more intensely coloured than reference solution Y5.
pH
5.5 ~ 8.0
Nucleotidic impurities
Absorbance at 260 nm: ≤0.15
Protein
≤0.5% (Dried substance)
Related substances
Dermatan Sulfate + Chondroitin Sulfate:  not more than the area of the peak due to dermatan sulfate and chondroitin sulfate in the chromatogram obtained with reference solution (e) (2.0%)
Any other impurity:no peaks other than the peak due to dermatan sulfate + chondroitin sulfate are detected.
Nitrogen
1.5% ~ 2.5% (Dried substance)
Sodium
10.5% ~ 13.5% (Dried substance)
Heavy metals
≤30ppm
Loss on drying
≤8.0%
Bacterial endotoxins
<0.01 IU/IU
Potency
——
Potency(dried substance)
≥150IU/mg(Dried substance)
Specific rotation
≥+50°
Molecular weight determinations
Mw: 15,000 ~ 19,000 Da;M24000 ≤ 20%;

M8000 ~ 16000 / M16000 ~ 24000≥1.0.

Residual solvents
Ethanol ≤ 4500 ppm
Microbial contamination
A: TAMC: ≤10 CFU/gTYMC: ≤10 CFU/g

B: Specified micro organisms

Escherichia coli:          negative

Salmonella:              negative

Pseudomonas aeruginosa: negative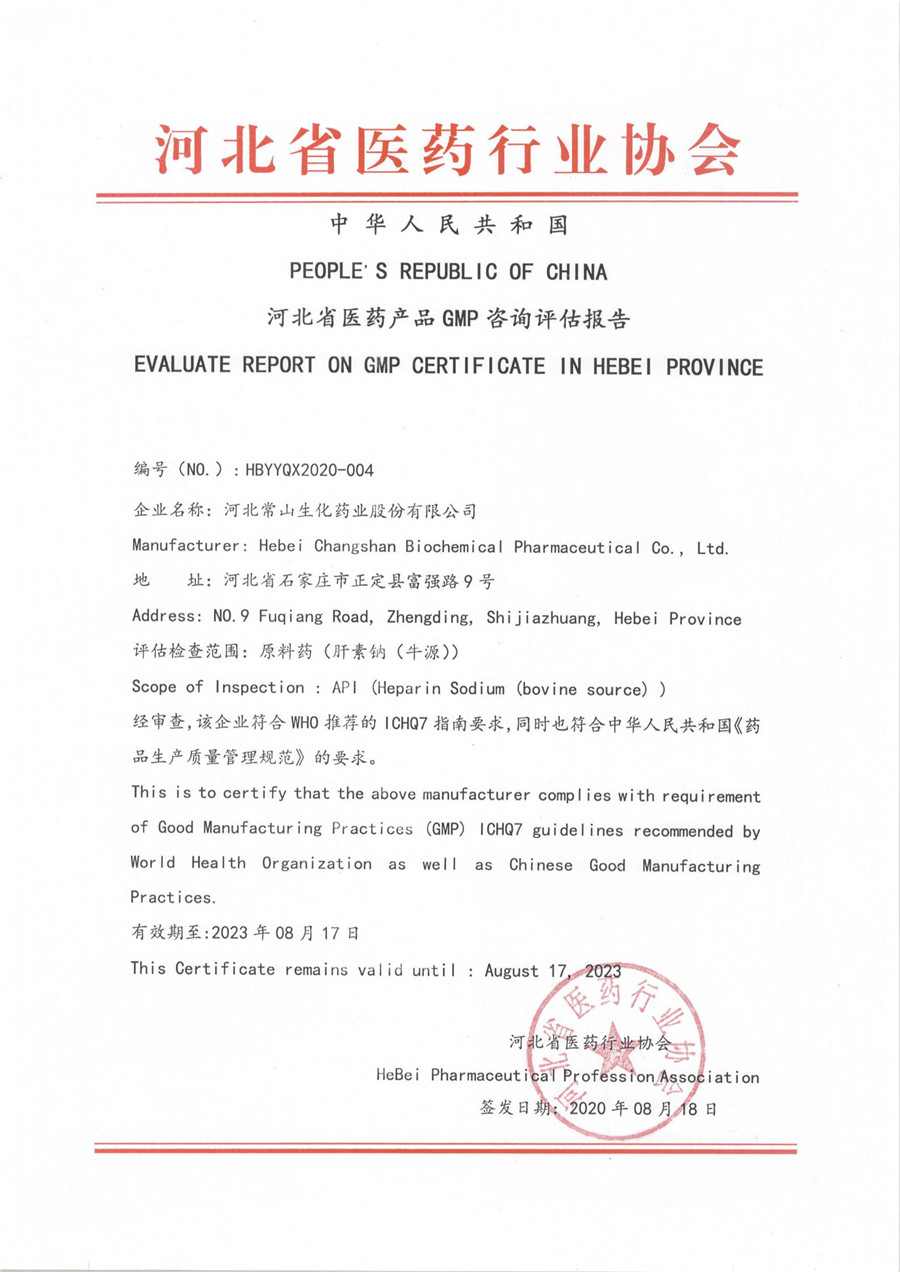 STORAGE:
Not higher than 25 °C, can not be frozen
Hebei Changshan Biochemical Pharmaceutical Co., Ltd. was founded in 2000. On 19 August 2011, the company was listed on the Growth Enterprise Market of Shenzhen Stock Exchange (stock code 300255). The company has four production bases, nine subsidiaries, two overseas companies, and two joint ventures. The company is a biochemical pharmaceutical enterprise, integrating research and development, production, sales, and import and export trade. It is a key high-tech enterprise with products from heparin crude products to low molecular weight heparin injections and a complete heparin industrial chain in the field of heparin, and a leading pharmaceutical company in the production of domestic heparin products.
What We Do
Since its inception, the company has been researching, developing, manufacturing and marketing drugs for cardiovascular, cerebrovascular diseases and diabetes and anti-cancer drugs. The company has actively expanded its fields, including medical devices, beauty products, and precision medicine. The products are exported to the United States, Germany, France, Italy, Spain, South Korea, Japan, Russia, India, the Philippines, and other countries in the world.
For many years, CSBIOhas focused on the research and development and registration of heparin series products and hyaluronic acid series products at home and abroad, and will gradually increase its research and development efforts in the fields of diabetes drug abenazin and Antineoplastic drug c-met. We will build a strategic layout with the heparin series as the core and the development of multi-disciplinary innovative drugs.
---
Previous:
Heparin Sodium (Porcine Source)
Next:
Enoxaparin Sodium
---
Write your message here and send it to us