Nadroparin Calcium Injection
Product Detail
FAQ
Product Tags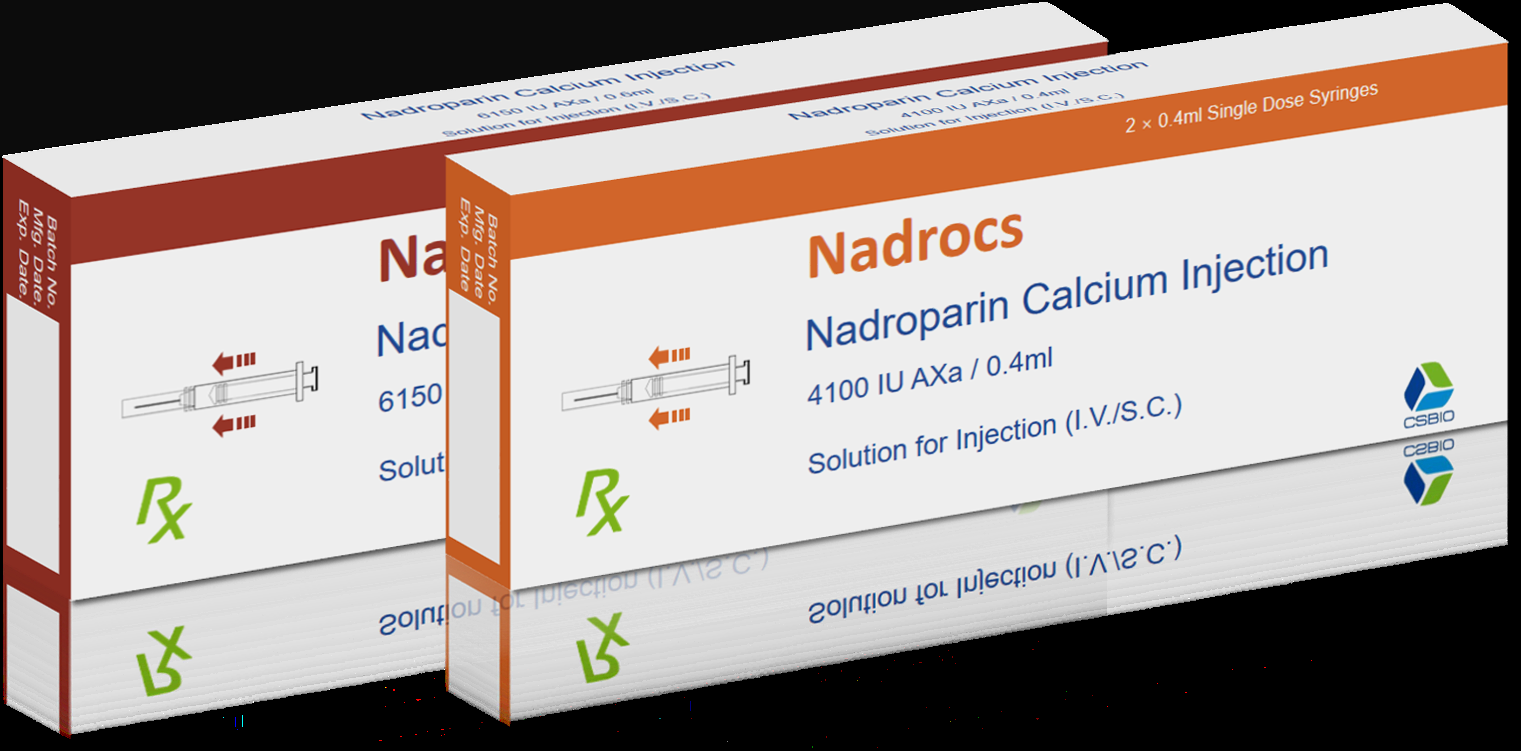 Compotent:
The main ingredient of this product is nadroparin calcium, which is a calcium salt of aminodextran (heparin) fragment obtained from porcine small intestinal mucosa. 1ml injection contains nadroparin calcium 9500IU anti-factor Xa (European Pharmacopoeia unit. It is equivalent to WHO unit 10250IU anti-factor Xa).
INDICATIONS:
In surgical operations, it is used to prevent venous thromboembolic diseases in moderate or highly dangerous situations.
Treatment of formed deep vein thrombosis.
Combined with aspirin for the treatment of unstable angina and non-Q-wave myocardial infarction in the acute phase.
Prevents blood clot formation during extracorporeal circulation in hemodialysis.
Storage:
Do not freeze. Do not refrigerate as cold injections may be painful. Do not store above 20℃.
ADVANTAGE:
Calcium salt is both effective and safe
Calcium salt reduced local hematoma at injection site and was well tolerated
OVERDOSAGE
Orally administered enoxaparin is poorly absorbed and even large oral doses should not lead to any serious consequences. This may be checked by plasma assays of anti-Xa and anti-IIa activities.Accidental overdose following parenteral administration may produce haemorrhagic complications. The anticoagulant effects can be largely neutralised by the slow intravenous injection of Protamine, but even with high doses of Protamine, the anti-Xa activity of enoxaparin sodium is never completely neutralised (maximum about 60%). The initial dose of Protamine depends on the dose of enoxaparin given and also consideration of the maximum recommended Protamine dose (50mg). Data on Protamine dosing in humans for enoxaparin overdose is extremely limited. The available data suggest that in the first 8 hours after enoxaparin administration 1mg Protamine should neutralise the effects of 1mg of enoxaparin. Where the dose of enoxaparin has exceeded 50mg, an initial dose of 50mg Protamine would be appropriate, based on the maximum recommended single protamine dose. Decisions regarding the necessity and dose of subsequent Protamine injections should be based on clinical response rather than measurement of anti Xa or anti XIIa results. The physician should also consider that the amount of enoxaparin in the body drops to 50% after 8 hours and 33% or less after 12 hours. The dose of Protamine should be adjusted depending on the length of time since enoxaparin was administered.
---
Previous:
Enoxaparin Sodium Injection
---
Write your message here and send it to us